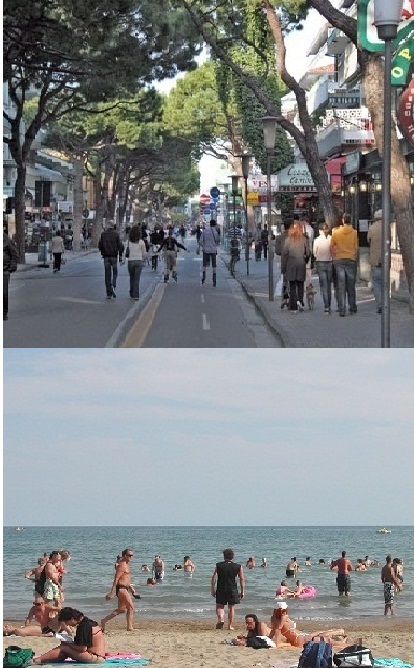 Welcome to our site.
We have holiday apartments in Lido di Jesolo Venice.The apartments are
confortable,situated in the center of the down town(Piazza Brescia) on a quiet
street 100 m far from the sea.Walking distance the main street where you can
find shops, bars,restaurants and nigtht time pedestrian zone.
We do have a private parking and private beach and we offer several types of
apartments with large terraces.
The apartments are arranged by: 1 or 2 Bedrooms with 3/5/6 beds,Large
kitchen,one bathroom with shower, a nice and confortable living area and a
beautifull garden.
All apartments are fully furnished: washingroom, air conditioning, TV, safe,
microwave, heat request, Bicycles.
Disposition:Ground floor; 1° floor; 2°floor; 3°floor.Additional services: linen
rental, cleaning service.
Advantages: completely renovated,ideal geographic context, quiet place in the
heart of Lido di Jesolo Venice.We accept Pets (with the agreement of the owner).
Lido di Jesolo Venice is 30km far from the Marco Polo Airport and 16km far from
the Jesolo San Donà Railway Station.40 km from Treviso,40km from Padova,120km
from Trieste. Just 35km far from Venice,where you can go by land or lagoon with
vaporetto. 45km from Padova, 30km from Treviso,120km from Trieste.The location
is 30km far from Marco Polo Airport .
Disposition: Ground floor; 1° floor; 2° floor; 3° floor.
Surrounding Activities: Riding, Tennis, Swimming Pool, Fishing, Mountain
bike/Bicycle, Sea, Cinema, Casino, Wine Routes, Disco, Skate Park,Spa.

WEEKLY PRICES 2018

15/11/18 - 02/06/18 Min € 350,00; Max € 600,00

25/08/18 - 31/10/18 Min € 350,00; Max € 600,00

02/06/18 - 28/07/18 Min € 420,00; Max € 800,00

18/08/18 - 25/08/18 Min € 500,00; Max € 600,00

28/07/18 - 18/08/18 Min € 700,00; Max € 900,00


Weekly prices.Lining suply and cleaning are not included.

Clining : € 35,00

Lining suply for person : € 8,00

We accept short stays.